More Girls - More Need for Commitment
Dear Friends of Angels Joy:
We are thankful to you for your dedication in the past; as your donations had helped shape the lives of our girls for better in every facet. But, as this year, we have not reached our goal and more girls are in need of help, we are reaching out again to you for your commitment to changing more lives.
As of today until August 12th, Global Giving will be having a matching program on your single or recurrent donations. We appreciate it if you would take advantage of this opportunity so the girls get double amount of funds so necessary for their livelihood.
This is an excerpt of a note we just got from the in charge organization of ANGELS HOME in Kathmandu, CAP Nepal, about the immediate and urgent need to do something :
"...Our CAP Nepal all team has moved to the another source district for Psychological as well awareness camp program. The flow of girls increases after having such camps. Due to over flow, we cannot continue [keeping] girls for the long term as well we need to plan separately on the nature of service that should be quite different from each other; and most important, we need to have long term commitments from donors for long term support."
This is the youth week and so let us help our youth have a brighter future through your monthly donations.
Warm regards,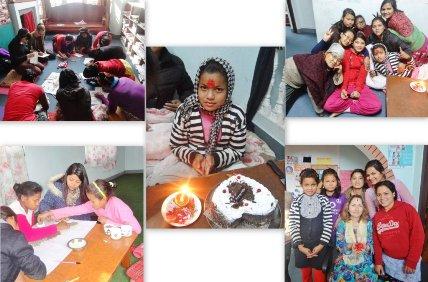 Angles Joy provides a loving safe haven where up to 14 young girls who are victims of abuse, rape, human trafficking and at risk can be protected and nourished in Kathmandu in a year time. Funds go toward their basic needs as well as services of a psychologist/ staff at the "Angels Home". Angels Joy believes the key to healing the deep wounds of these victims is in providing integrating therapies like yoga, meditation, and the teaching of human values. Funding goal is for 6 mounts of basic need.